September 23, 2021 | 1:00 PM - 6:30 PM MDT
Pricing
Members: $40.00
Non-members: $70.00
Overview (Program Summary)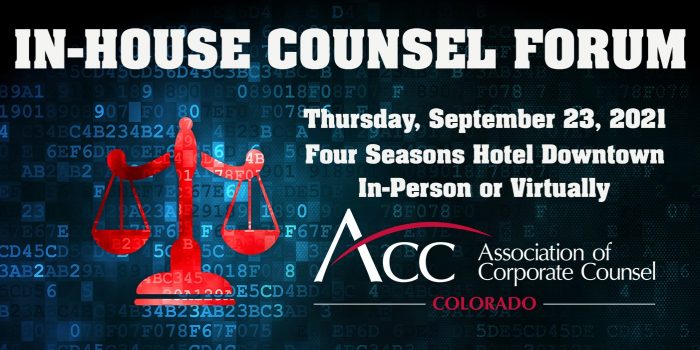 Join ACC Colorado for the return of the In-House Counsel Forum on Thursday, September 23rd from 1 – 6:30 P.M., featuring 4 hours of CLE, networking, food, and drinks.
This conference is being offered both in-person at the Four Seasons Hotel Downtown Denver and virtually via Zoom. Those attending in-person will have the opportunity to meet Veta Richardson, CEO, Association of Corporate Counsel, and receive a free copy of her new book, Take Six: Essential Habits to Own Your Destiny, Overcome Challenges, And Unlock Opportunities.
This program is approved for four CLE credits and includes 1.3 credits toward the new EDI requirement. All sessions will be recorded and available for home study credit.
ACC Member Price - $40

Non-Member Price - $70
Non-members must be in-house counsel

CLICK HERE TO REGISTER!

1:00 P.M. – 1:50 P.M. – 2 Sessions
2:00 P.M. – 2:50 P.M. – 2 Sessions
3:00 P.M. – 3:50 P.M. – 2 Sessions

4:15 P.M. – 5:20 P.M. – General Session
5:20 P.M. - 6:30 P.M. - Reception

1 P.M.

How to Keep your Diversity and Inclusion Initiatives Legally Compliant

Companies are looking for ways to update and increase diversity and equity initiatives, but it's critical to do so in a way that does not inadvertently violate federal and state nondiscrimination laws. We will provide key tips and advice for how to adopt and implement DEI initiatives appropriately.

Speakers:

Steve Gutierrez, Partner, Holland & Hart

Eric Naples, General Counsel and Privacy Officer at RxRevu

Hot Topics and Trends in Patent Litigation: Should Companies Be Afraid?

Join us to learn about the top 10 hot issues and trends in patent litigation. With huge damages awards becoming common, distant and inconvenient courts the norm, and nonpracticing entities as a constant threat, what should your company know to be prepared? And when is the right time to go on the offensive? Hear about these topics and more in an accessible format designed for general practitioners.

Speakers:

Amanda Tessar, Partner, Perkins Coie

Kourtney Merrill, Partner, Perkins Coie

2 P.M.

Artificial Intelligence In The Practice of Law


Promising increased efficiencies, better outcomes and smarter ways to work, artificial intelligence (AI) is impacting nearly every part of our economy—including the legal industry. Legal departments and law firms need to incorporate AI tools into their practices to be efficient and competitive, but what do attorneys need to know before using AI? Like the introduction of personal computers and email 30+ years ago, AI is raising new and significant legal risks and considerations for attorneys. This informative and entertaining CLE will educate attorneys about AI and its applications in the practice of law, including ethical requirements for technical competency. Offering practical takeaways, this program will guide participants through 7 essential questions every attorney should ask themselves when incorporating AI technology into their practice.

Speaker:

James Devaney, Partner, Shook, Hardy & Bacon L.L.P.

Three Takes on Takedowns: Protecting Your Brand Online

Social Media Takedowns - How to Prevent Reputational Harm on Social Media

Online Marketplace Takedowns - Brand Protection on 3rd Party Marketplaces

Online Patent Enforcement Tools- Stepped-Up Enforcement Tools

Speakers:

Lindsay Jones, Associate, Merchant & Gould

Gabby Kiefer, Associate, Merchant & Gould

James W. Beard, Partner, Merchant & Gould



3 P.M.

A Primer on Conducting Internal Investigations

This panel will provide a review of the key aspects and questions that a company's in-house counsel should consider before and while conducting an internal investigation into allegations of potential misconduct. Topics will include when to conduct an investigation, who should supervise the investigation, document collection and preservation, witness interviews, and preserving privileges, among others.

Speakers:

Thomas J. Krysa, Partner, Foley & Lardner LLP

Rohan Virginkar, Partner, Foley & Lardner LLP

Teri L. Slenkovich, Deputy General Counsel, Empower Retirement



Top Tips to Navigate and Minimize Intellectual Property Infringement Claims to Avoid or Limit Litigation

Join our panel of experts to learn best practices in categorizing and responding to the inevitable claims of infringement. Before you find yourself on the receiving end of a claim, learn the practice pointers, checklists and diligence that can limit exposure and put you or your client in the best possible position to avoid infringement claims. No strategy fits all businesses, but expect to leave with actionable tips to spot patent, trademark, trade secret, and copyright issues before they become insurmountable.

Speakers:

Tom Franklin, Partner, Kilpatrick Townsend

Brian O'Donnell, Counsel, Kilpatrick Townsend

Grant Ritz, Director & Associate General Counsel, IP Transactions at Hewlett Packard Enterprise
4:15 P.M. General Session
The 21st Century Legal Department: Best Practices and Leadership Strategies to Promote an Inclusive Workplace
"When in-house legal departments get it right, they are valued as trusted advisors and business colleagues."
Join us for a discussion on how you can ensure that the legal team is viewed as a trusted advisor and learn the skills you need to grow as 21st-century leaders. The panel will share tried and true methods for developing an effective partnership between the legal department and the business, and then focus on how to reach the next level, including strategies for mitigating and eliminating bias and other ways that every member of the legal department can cultivate a diverse, inclusive, and equitable work environment.
Speakers:
Veta T. Richardson, CEO, Association of Corporate Counsel
Author, speaker, CEO, and professor, is a visionary and strategic leader with a lifelong commitment to making a difference in the world and empowering others. Her views and expertise in the areas of corporate governance, diversity, equity, and inclusion have been widely sought after by hundreds of business executives and three US presidential administrations (Clinton, Bush, Obama). Veta created the "Take 6" principles, which she has refined over her professional career through the mentorship of countless in-house counsel in navigating their own careers and challenges.

Edward Hopkins, Partner, Fisher Phillips
Ed is a privacy lawyer and trial lawyer with appellate litigation experience and published appellate opinions. In addition to advising his firm's corporate clients on their global privacy management programs and workplace privacy matters, he litigates business disputes involving breach of duty of loyalty, breach of contract, computer fraud, consumer fraud, data breach, defamation (libel and slander), employee defection, false advertising, invasion of privacy, negligence, non-compete, right of publicity, trade libel, and trade secrets claims.


Karen Hester, DEI Consultant
Karen is an executive with more than 10 years of experience in defining, developing and implementing leading-edge diversity and inclusion strategies and programs aligned with, and incorporated into, the overall vision of the organization. She leverages her legal background, as well as analytical thinking and a life-long commitment to inclusion to address and resolve critical issues, create collaborative environments, gain consensus, and effect positive change. Karen is a strategic leader who positions and promotes an in-depth understanding of diversity and inclusion as a key skill set for leaders at all levels of the organization.
**Zoom connection links will be emailed three days prior to the program. Once registered, you do have the opportunity to change from in-person to remote, email coloradoevents@accglobal.com to make this request.
---
CLE
Credits: 4 CLE Credits
State: CO
Contact (RSVP)
Questions? Contact Colleen Schneider at coloradoevents@accglobal.com
Sponsored By
Thank you to our Platinum Sponsors that support this program!
Foley
Holland & Hart
Kilpatrick Townsend
Merchant & Gould
Perkins Coie
Shook, Hardy & Bacon